13.10.2020, 09:50 AM
(This post was last modified: 13.10.2020 09:58 AM by Robin.)
Robin
Super Moderator


Posts: 537
Joined: Feb 2011
Reputation: 11
Update from Frank

Liebe Eloy Freunde,
Auch wenn Corona vieles zum Erliegen gebracht hat, und die Zeiten für große Bühnenwerke und kostenträchtige Live-Events nicht gerade ideal sind, so ist dennoch die Absicht nicht aufgegeben, "The Vision, the Sword & the Pyre" als Spectacle Musical auf die Bühne zu bringen. Letzteres ist eine Mixture aus Musik und Theater, ähnlich einer Rock-Opera, für die auch geeignete Schauspieler gebraucht werden. Also kein schnulziges Musical mit gesungenen Dialogen, sondern ein Schauspiel mit der Musik, wie Ihr sie von den den Eloy-Platten bereits kennt.
Für die Rolle der Jeanne d´Arc konnte ich eine außergewöhnliche französische Schauspielerin gewinnen, deren Vorname nicht nur mit dem des historischen Original identisch ist, sondern auch ihre Herkunft. Jeanne wurde im selben Dorf in Lothringen geboren, und ihre äußere Erscheinung, sowie Größe und Gestalt, entsprechen der legendären Jeanne d´Arc fast bis ins Detail. Bereits seit einigen Jahren verkörpert sie eindrucksvoll die Heldin bei den berühmten, von Damien Fontaine sensationell inszenierten und visualisierten Spectacles vor der Jeanne d´Arc- Basilika in Domrémy, Ich hatte sie kürzlich in Nancy besucht, und ich habe hier ein Foto von uns Beiden für Euch, VOILA….
Frank

Dear Eloy friends,
Even though Corona has brought many things to a standstill and the times are not exactly ideal for big stage works and costly live events, my determination to bring "The Vision, the Sword & the Pyre" to the stage as a Spectacle Musical remains. This is a fusion of music and theatre, similar to a rock opera, which requires suitable actors. So, it's not a cheesy musical with sung dialogues, but a spectacle with the music you already know from the Eloy records. For the role of Jeanne d'Arc, I was able to engage an extraordinary French actress, whose first name and ancestry are identical with that of the historical original. Jeanne was born in the same village in Lorraine, and her appearance, size and shape are almost identical to her legendary namesake in every detail. For several years now, she has impressively portrayed the heroine in the famous Spectacles, sensationally staged and visualised by Damien Fontaine, in front of the Joan of Arc Basilica in Domrémy. I visited her recently in Nancy, and I have a photo of us together for you.
Frank
Chers amis d'Eloy,
Même si le coronavirus a retardé beaucoup de choses, et que les temps ne sont pas aux grandes œuvres scéniques ou aux événements live pharaoniques, ma détermination à porter The Vision, the Sword & the Pyre sur scène n'a pas faibli. J'envisage ce spectacle musical comme une fusion de musique et de théâtre, semblable à un opéra-rock. Il nécessitera des acteurs appropriés. N'attendez pas une comédie musicale ringarde avec des dialogues chantés, mais un vrai spectacle, avec la musique familière entendue dans les albums d'Eloy !
Pour le rôle de Jeanne d'Arc, j'ai pu engager une actrice française extraordinaire, qui partage avec son modèle aussi bien le prénom que les origines. Jeanne est née dans le même village de Lorraine, mais ce n'est pas tout : d'allure, de taille et d'apparence, elle ressemble à sa glorieuse homonyme presque trait pour trait. Depuis plusieurs années maintenant, elle incarne l'héroïne dans les célèbres spectacles que Damien Fontaine met superbement en scène et en lumière sur le parvis de la basilique Jeanne d'Arc, à Domrémy. Je lui ai rendu visite il y a peu à Nancy, et nous avons pris pour vous cette photo de nous deux. VOILÀ...
Frank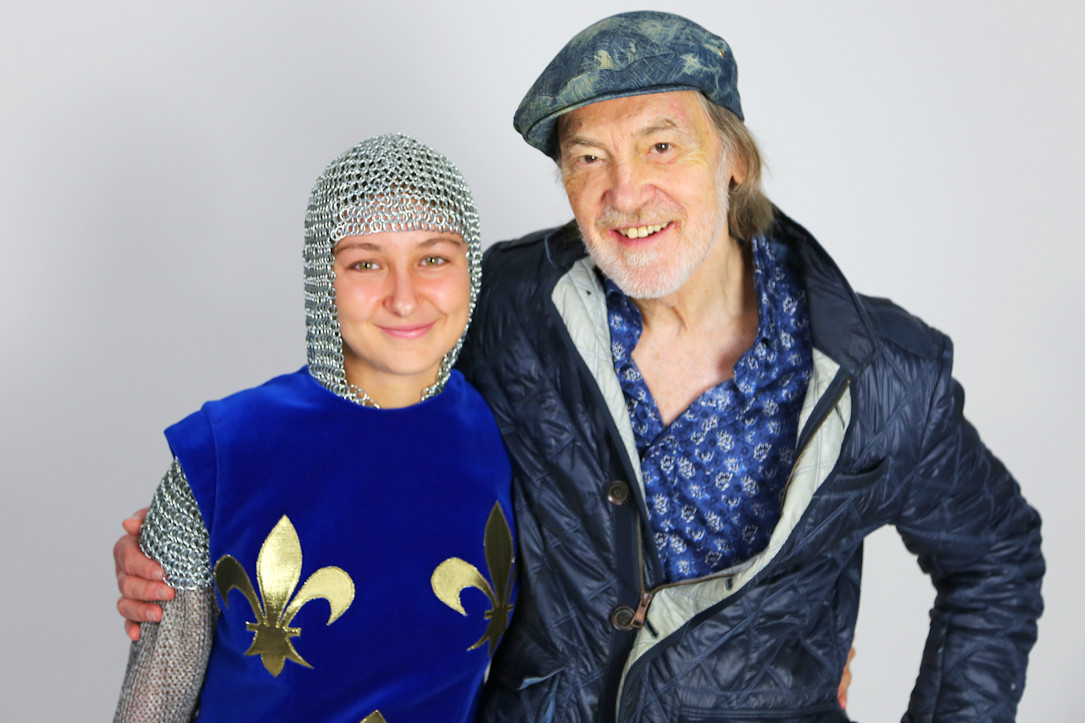 ---
Robin - [Eloy-Fanclub]
A star spangled sky is my roof tonight - the forests are my covers
Moon man the watcher with eye so bright - gives shelter like a brother
06.01.2021, 09:43 PM
stiles
Member


Posts: 214
Joined: Feb 2011
Reputation: 1
RE: Update from Frank
Schön davon zu hören, dass sich Frank nicht unterkriegen lässt und fleissig im Hintergrund an seiner Bühnenumsetzung weiter arbeitet.

User(s) browsing this thread: 1 Guest(s)
---