Album review - Syrinx Call - The moon on a stick
17.08.2018, 08:35 PM
(This post was last modified: 19.08.2018 10:11 AM by Robin.)
Robin
Super Moderator


Posts: 538
Joined: Feb 2011
Reputation: 11
Album review - Syrinx Call - The moon on a stick
Syrinx Call (featuring Isgaard)

The Moon on a Stick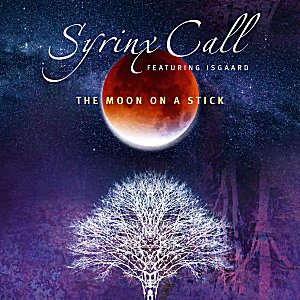 Is it coincidence, or on purpose, that I receive this nice album with a BLUTMOND on the front cover just 2 weeks before the lunar eclipse in Germany?
First of all I have to point to this very nice piece of artwork, with the moon and the trees. Very nice mood, which also fits to the album - mystical...
The first track "Sunday Mood" already presents the trademarks of this album, the recorder as the center of the music, the outstanding voices of the female vocalists, and the guitar sounds, all in a bed of stunning Keyboard-Sounds.
As Volker is a long time Eloy-Fan, and also participated with his Recorder-Collection at Eloy recordings of this millennium, it is needless to say, that the music breathes the air of Eloy's music. Someone could even have the wish, that Isgaard also joins Frank Bornemann's musical universe on some songs.
What is really different to Eloy, is the missing bass play of Klaus-Peter and a heavier drum-section. The title track has a very nice melody and just flows - it splashes along in your ears.
"In a daze" is starting as a soft song, playing with classical elements, and peaks with a march rhythm with a kind of Irish melodies before fading out softly.
"The blue hour" is a dream and reminds me, because of the violin and the mood, of Kitaro - an Intermezzo before the most awaited track for Eloy-Fans starts: "Traces in my mind" (an hommage to Eloy) is Volkers expression and interpretation of his thousands of listening hours of Eloy's work. This is not an Eloy-Copy, it is his own feelings expressed, and this shows to me a special creativeness - because this track just reflects what Eloy is also for me: A surprise box with a lot of variety, and interlaced melodies. Outstanding!
"Stillborn" is then a big change of the mood - as it is a song with a sad story, but done very well, and the voice of Doris Packbiers is just great! Goosebumps.
I do not want to go through every song in detail, but want to mention some of my impressions:
"Breathe in" breathes Pink Floyd feelings...
"Wait for the light of day" outstanding melody of the vocals of Jens Lück and Isgaard
"The man in the spotlight" is, because of the guitar, also again a song which presents Pink Floyd feeling
A high recommendation for an album which sets the recorder in the center of music, without making the music strange or a no go for music lovers of real art rock.
Get it! And dream!
Syrinx Call Website
---
Robin - [Eloy-Fanclub]
A star spangled sky is my roof tonight - the forests are my covers
Moon man the watcher with eye so bright - gives shelter like a brother
26.09.2018, 05:06 PM
stiles
Member


Posts: 214
Joined: Feb 2011
Reputation: 1
RE: Album review - Syrinx Call - The moon on a stick
ich finde die musik sehr entspannend und frisch dargeboten, abseits des musikalltags. würde sie mir auch mal live anhören, um einen endgültigen eindruck zu gewinnen. wenn ich aber lese die musik erinnert an die frühen jahre von pink floyd, finde ich dies ziemlich weit hergeholt. sicher nicht völlig aus dem raum, aber für mich eher als singnalwerbung zu verstehen, um interessenten anzulocken. habe geradevor einigen tagen nick mason mit den früheren titeln im konzert angehört, das war schon ein anderes musikerlebnis gewesen.
05.11.2018, 10:14 PM
Robin
Super Moderator


Posts: 538
Joined: Feb 2011
Reputation: 11
RE: Album review - Syrinx Call - The moon on a stick
Zum Glück habe ich von "frühen" Pink Floyd nix geschrieben, das andere stimmt aber...
---
Robin - [Eloy-Fanclub]
A star spangled sky is my roof tonight - the forests are my covers
Moon man the watcher with eye so bright - gives shelter like a brother

User(s) browsing this thread: 1 Guest(s)
---